Custom Retail Packaging From Ashtonne Packaging
RETAIL READY AND SHELF READY PACKAGING CAN HELP RESOLVE DISTRIBUTION CHANNEL ISSUES
Retail Ready Packaging is the new trend to reduce cost at supermarkets, club stores, deep discount stores, mass retailers,

e-commerce packaging

vendors, etc! Retail and shelf ready packaging can best be described by 5 "easies"
Easy to identify
Easy to shop
Easy to open
Easy to shelve
Easy to recycle
Contact Us to Get Your Project Started
As mentioned in various articles, including "Retail-Ready Packaging" by Les Pickering, "12 Best Practices for retail-ready packaging" by Ron Romanik and the Fredonia Report, retail-ready packaging - also known as RRP - and shelf-ready packaging - also known as SRP – describes packaging that arrives in a manner that allows product to go directly onto the shelf or selling floor without the need for unpacking inner contents. Retail and shelf ready packaging can be best described with "five easies" — easy to identify, easy to shop, easy to open, easy to shelve and easy to recycle.
Here is a key overview of RRP and SRP that will give you a better understanding of this custom designed packaging, how it came about, and what you can expect in the future:
How did this custom retail packaging come about?
Pressures to reduce cost in supermarkets are the driving force. De-palletization and the speed of placing product on the shelf are one of the most expensive areas of the supermarket. Retail-ready packaging is designed to directly reduce these two cost areas. Europe is driving this change in their supply chains, making it easier for their key supermarkets to get product in and on the shelf in the least amount of cost, time and with the least amount of waste.
How do we identify RRP and SRP?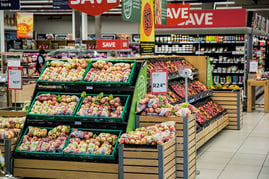 1) In order to meet the guidelines set by the Institute of Grocery Distribution, RRP must be:
Easy to identify- clearly printed enabling store personnel to quickly find the product
Easy to open- easily opened in store, but robust enough to endure the supply chain
Easy to merchandise- simple shelf replenishment and optimization of shelf space
Easy to shop- consumers can easily identify the product
Easy to dispose- uses minimum material and can be recycled; many custom box companies use creative design for product packaging that allows a greater selection of their recycled materials to be used in the box-making process, thus affording further cost-savings for the customer.
2) The cardboard box or corrugated custom shipping box is in effect two half-sleeves that allow the upper portion to be used as transit information and the lower portion for more graphics and design for point of purchase. In the store, the team removes the upper half of the package to reveal the lower half. No cutting of the custom retail boxes or need to rip tape is required.
What do RRP and SRP mean for you?
The demand for RRP in the US is forecast to increase 5.2% annually to $6.2 billion in 2020, this from $4.83 billion in 2015.
With the proliferation of club stores and no-frills deep discount grocery stores, these stores sell their merchandise directly from secondary packages and require their vendors to ship products in RRP. Additionally, disruptive trends in the US food retailing landscape will bode well for RRP. Among such trends is the increasing competition that traditional supermarkets face from a host of alternatives, including club stores, deep discounters, mass retailers, drug stores, farmers markets and e-commerce vendors.
Food is the predominant market for RRP, reflecting almost 3/4 of the demand in 2015. This growth will continue through 2020, as uses will be fueled by labor cost savings resulting from the reduction of product handling requirements during stocking.
Work with suppliers closely to optimize the product SKU's and features BEFORE starting the real project. Make sure you understand the customer's requirements- all of them! Shelf dimensions, rate of sale, automated warehouse systems and distance traveled all can have an impact on how successful any retail-ready packaging is. ALWAYS design with the consumer in mind.
If your current supplier hasn't discussed the above, or if you are looking to reduce your current supply chain costs with a packaging partner who can do more for your company, consider evaluating that vendor with one who can provide innovative packaging solutions with creative packaging and improve your bottom line. Please click here to contact Ashtonne or call us @ 877-522-6937 if you would like further information on retail-ready packaging. Better yet, why wait if you have a product that fit either "retail ready" or "shelf ready" packaging? Schedule a meeting now!