Publishers are facing many struggles today with the move from digital content (growth of eBooks) and direct to consumer sales channel growth. More than ever, companies need to ensure their retail point of purchase display promotions achieve their goals of budget, timing, and structural durability. Seasonal promotions require even more planning and collaboration with a display partner to ensure the displays are designed properly and are delivered on time.
Publishers tend to do best when they sell their products in many markets and keep their fixed overhead low. There doesn't seem to be much brand loyalty to one company, but this can be good as it allows publishing companies more opportunities in markets they havn't had a foothold yet. Amazon continues to increase pressure on publishing companies as they seek better deals for their customers Amazon is also seeking their own publishing service as an avenue to increase sales and profits. To offset this market competitor, publishing companies will have to identify new, high quality authors and book titles. This is the challenge point of purchase display manufacturers like Ashtonne can help them with!
Keeping in mind the need to advertise their books, the main concept is to get consumers to purchase on demand. When we enter a book store, or a retail store, we are there to make a purchase, or at the least consider a new book. And since over 30% of purchases aren't decided until the customer is actually in the store, that makes it quite clear the impact and importance effective marketing can do and why it's critical to utilize in-store advertising, such as a Custom Point of Purchase Display or Publishing.
Understanding why publishers need a specific custom designed point of purchase display begins with understanding publishers needs and their goals. For example:
1) What is the business plan and specific goal of a publisher? That has to be clear and understand by all before moving forward.
2) Who is your target market and where are they located and what's the best way to reach them.
3) What are the budgeted and ongoing expenses.
Once these three basic elements are detailed, now the design process can take place.
So, if you are in the publishing business and considering how to improve sales, you should consider a Custom Point of Purchase Display. Realizing that each branded product needs a unique and specific look of it's own and may need to fit specific retail needs, here are six key elements to put together your custom designed and branded retail Point of Purchase Display:
1. What are the goals of your products and what do you want to accomplish. Understanding exactly what you want to here is essential to retail Point of Purchase Display development. Do you want to increase sales, or do you have specific news to share with your customers, or are you wanting to promote an upcoming event, or generate on-demand sales with your displays. You may want a display ONLY during the holiday season to promote a special seasonal product.
2. Understand what specific products you are promoting and build your display accordingly. Different displays will be used based on the products advertised. Calendars, magazines and books are three very different products, each requiring their unique and custom designed point of purchase display.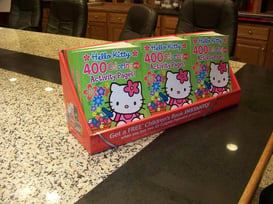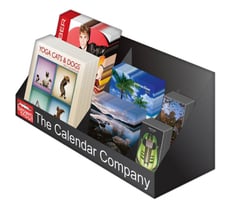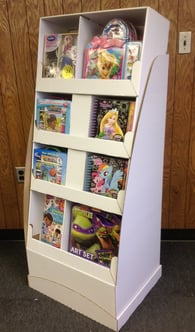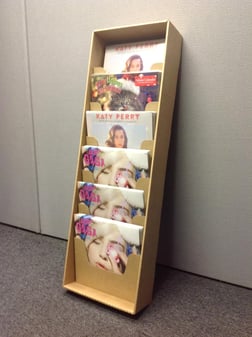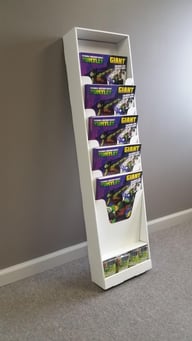 4. Determine which publishing companies and book stores, including Ecommerce, you are targeting for and where they are located.
5. Consider the space inside each store and where you will be allowed to promote.
6. Your display should evoke emotion, allowing the customer to associate with your unique branded product. An emotional connection encourages customers to interact with your product and allow that product to be touched, picked up, tested, or even sampled. This interaction makes it more likely the customer will make a purchase. You want a creative and unique display that every customer who passes by will notice. You will want a display that promotes your products so that when customers leave the retail store, they will be thinking about your products and wanting to share their experience with their family and friends!
Custom Point of Purchase Displays for publishers are essential to helping grow your business in a retail store. Helping customers relate to your branded products and invoking repeat sales with this association is a great reason for a display! Realize that displays are powerful selling tools and that a poorly designed display can make or break your business. No consumer product or publishing company can afford mistakes or failures in that area!
At Ashtonne Packaging, we understand the importance of getting it right the first time and taking the time to understand your business goals before we move on to the design stage. We have been designing displays for the publishing markets since our start in 2007! Our designers and project managers have executed hundreds of specific promotional displays for the top ten publishers in North America. We ask very detailed questions of our clients, as sometimes they don't even know what they don't know. We routinely visit stores to stay up to speed with trends and the competitive landscape you will operate under. We have design logistics and success in understanding the supply chain for your products. As your business partner, our success will be predicated upon your success and we want to ensure that happens. If you are searching for one of the best point of purchase display companies, choose Ashtonne Packaging. Our experience and expertise can help your business!
If you need help in any way, please feel free to call us at 877-838-6808 or schedule a brief meeting with one of our packaging experts NOW!