CUSTOM PACKAGING FOR SMALL BUSINESSES
Small or start-up businesses can be a risky investment and product packaging can make or break the company if you aren't careful. Your small business product packaging is an investment in your business's reputation and your future sales growth, especially with the growing focus on eCommerce in today's world.
Small Business Packaging Solutions from Ashtonne Packaging
When searching for small business packaging solutions, you need a packaging partner that can provide custom-designed packaging and creative packaging solutions that deliver ROI. At Ashtonne Packaging, we specialize in creating unique and custom packaging for small businesses and start-up companies.
With creative packaging ideas, your brand can stand out in the crowd and generate repeat sales. Whether you're in need of creative POP displays or unique custom shipping boxes, our team of experts at Ashtonne Packaging is able to provide the small business packaging solutions you've been searching for.
Contact Us to Start a Project
Our Small Business Product Packaging Capabilities
As a leading provider of packaging for small businesses, our capabilities include the following:
Our Small Business Packaging Design Process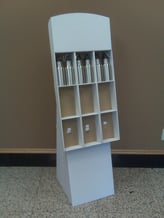 If you are searching for custom packaging for small businesses, you can count on Ashtonne Packaging. Our team of expert designers will work closely with you throughout the entire process, from design to production. Our years of industry experience and focus on client satisfaction is what sets us apart from other designers of small business product packaging.
Once you show us your retail or eCommerce products, our designers will create a custom packaging prototype designed specifically for your business. This small business packaging prototype that enables us to give you a price and get your approval before we create a formal design.
Once you receive the packaging prototype, you'll have time to review the design before making suggestions or confirming it's the right custom-designed packaging solution for your product.
Next, we will test ship or drop test the custom-designed packaging to ensure it meets your expectations. Once you approve, we'll kick-start the supply chain process for your small business packaging.
Custom Packaging for Small Businesses from Any Material
At Ashtonne Packaging, we are able to design and produce custom packaging made from a variety of materials. Some of the materials we specialize in for small business packaging solutions include:
Paperboard
Plastic

Corrugated paper

And much more!
To create the best custom packaging solution for each of your unique products, our design and sourcing teams will pick the proper materials and printing techniques for your small business.
Turn Your Custom Designed Packaging into Profit with Us
Contact Us for Creative Packaging for Small Businesses
When you choose Ashtonne Packaging as your packaging partner, we take your specific needs and ROI goals into account every step of the way. Whether you're just starting up your small business or need a product packaging change, we're able to create a unique, custom and perfect solution for you!
If you're searching for custom packaging for small businesses, contact the team at Ashtonne today. We are ready to discuss the best custom packaging solution for your company!